Essentially, a CMS is computer software that controls the content of a website. It makes it much easier to create and edit material for the website. One could be interested in learning What CMS a website is utilizing? for a variety of reasons.
You can be conducting research because you're launching your own website, you're simply inquisitive, or you have another motive.
Worldwide, two extremely popular CMS are WordPress and Joomla. These CMS are widely used and, in most circumstances, a website owner's first choice. However, the query is still valid. "How do you determine which CMS a website uses?"
We can inform you about certain online CMS detection tools in this post so that you will know what CMS a website is running.
Methods to identify a website's CMS
1. Powered By
Let's take a closer look at this fundamental stage prior to moving on to the CMS detection tools. It's likely that the owner of the website has left the "powered by" badge in place. You can find it at the bottom of the page, along with the name of the CMS.
The majority of the time, owners do delete that logo, but just in case, it cuts down on the length of your search.
2. WhatCMS
The user-friendly CMS detection program WhatCMS is accessible online. You can just visit What CMS and input the URL of the website whose CMS you wish to learn more about. After that, simply select the 'Detect CMS' option.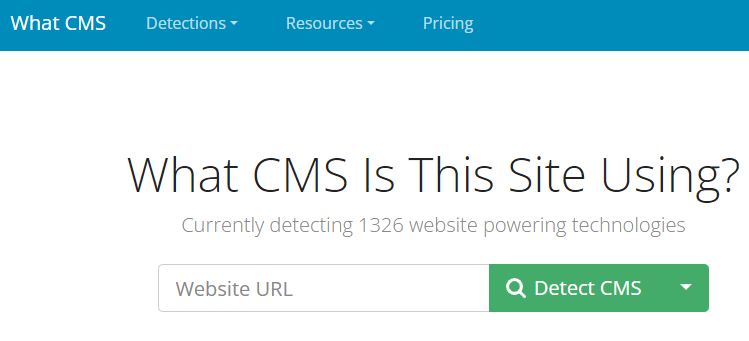 3. Wappalyzer
Wappalyzer is accessible as a Chrome addon. Wappalyzer enables you to perform a thorough site analysis. It gives you a lot of details about the website, including the CMS that it employs. If you're searching for a CMS for a website, you should give it a try because it is extensively utilized.

4. BuiltWith
Another tool that provides CMS, analytics, SSL information, web hosting providers, frameworks, and much more information is called BuiltWith. Give the platform a try, go to the website, type in the URL, and hopefully, your search is ended.

Despite having a somewhat complex user interface, it's a good option for developers but not the best for newcomers.
Additionally, there are additional CMS detectors that are accessible online, such as Netcraft, CMS Detector, etc., that essentially function in the same way and can assist you in determining the CMS that a site is running. Some of these technologies offer far more information about a website than simply its CMS, thus they go beyond simple CMS identification.
Conclusion
There are undoubtedly additional techniques to identify the CMS that powers a website, but generally speaking, a CMS detection tool is quite beneficial and simple to use. The procedure is also quick and needs minimal effort on the part of the user. Although it's laborious, you may also try to locate the CMS of a website by looking through the source code.
So, to discover the CMS of a website, you can attempt any of these CMS detection tools. You can switch to the next if the first doesn't turn out to be very helpful.
We hope you found this post useful. For more assistance, please contact our 24×7 customer support team.
Read Also: What is CMS (Content Management System)?