Introduction: SSLv3 is an old version of the security protocol and is considered insecure. SSL is known as the "Secure Sockets Layer" or "Transport Layer Security" (TLS). We would recommend making your software can use more recent security protocols, as sometimes you need to enable SSLv3 for your host
Note: Allowing SSLv3 is a security risk and we will advise against any activity that requires it to be enabled.
Proceed with the following steps to enable SSLv3
Step 1: Navigate to WHM
Step 2: Click on the Service Configuration
Step 3: Search for the Apache Configuration
Step 4: To continue the further process click on Global Configuration

Step 5: Go for the SSL/TLS Protocols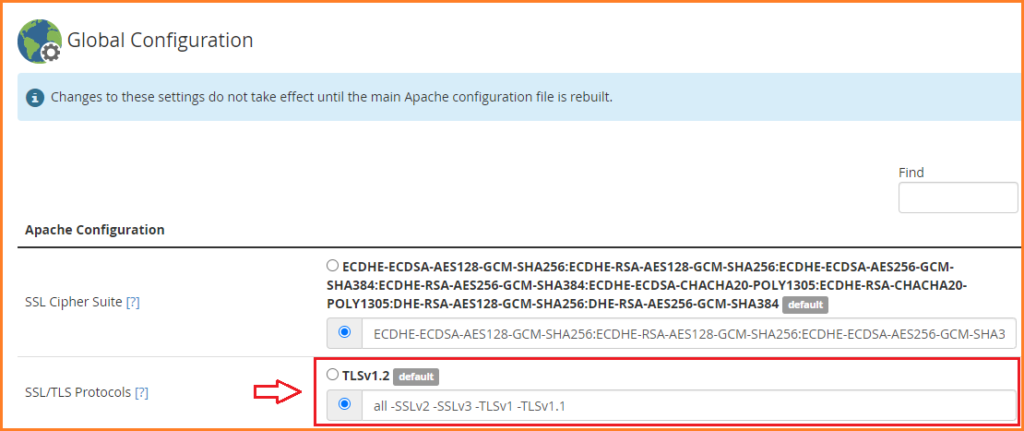 Now you can see a line with "-SSLv3" defined. You need to change the "-" to a "+" and save the configuration at the bottom. Restart Apache and save these new settings.
You can also update Dovecot. To update this setting for Dovecot, you need to navigate to "SSL minimum protocol" in WHM's "Mailserver Configuration"
Follow the following procedure:
1.Log into WHM
2.Search for Service Configuration
3.Click on the Mailserver Configuration:
4.Now you can see SSL Minimum Protocol:
NOTE: Now update the minimum support line to SSLv3 and save.
For more information regarding the editing of your cPanel server's security protocols, please feel free to get in touch with us via. Live chat or email.
Are you looking SSL Certificate for your website, go through Host.co.in is the best SSL certificate provider in India.